Gorgeous Driftwood Fruit Bowl from Celtic Coast Creations.Bespoke and truly unique, this driftwood bowl looks great whether empty or full.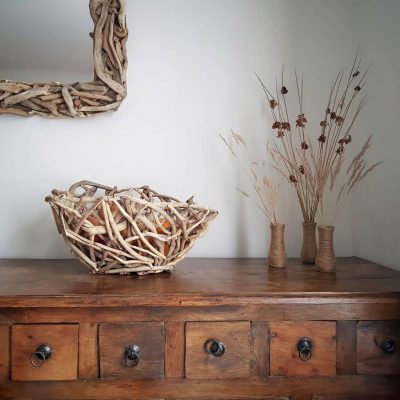 Driftwood Fruit Bowl
Dimensions of this bespoke driftwood bowl are approximately: 45cm by 35cm wide by 20cm high
The natural wooden colours and high quality sanded finish allow this beautiful bowl to integrate equally well into contemporary as with more traditional home interiors.
Make your mark on a room with beautiful Driftwood Art from Celtic Coast Creations. These hand-crafted, bespoke pieces can be commissioned, custom made and created for your space. Enquire and order yours today!
Shaped by nature, sculpted for you. Each piece of driftwood is sanded carefully by hand before being glued into place. The creative process sees individual pieces of driftwood transform into beautiful bespoke pieces of driftwood art.
Additional designs can be commissioned and custom made for your space so feel free to drop us a line if you have specific requirements or dimensions.
For updates on craft-fayres, events and additional information, please check out our facebook page. You can also get in touch via the contact us section of the site or find us on Instagram and Pinterest.
View all Driftwood Art from Celtic Coast Creations or click the pictures below for more information: